I finally finished Michael's new sweater and it turned out larger than I thought it would.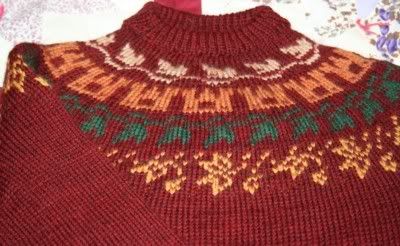 I worried about making Michael's sweater large enough to fit for a couple of years and it definitely should. But even big, Michael loves it and I am glad. Funny thing though. I planned for the sweater to be just a little bigger than the last one I made and I thought I hit gauge. But it is so much bigger than I thought it would be. I suppose my poor math skills could be to blame. Since I don't know why it happened, I don't know why it happened. Oh well.
I wound my large warp on the back beam of my loom, threaded the heddles and sleyed the reed.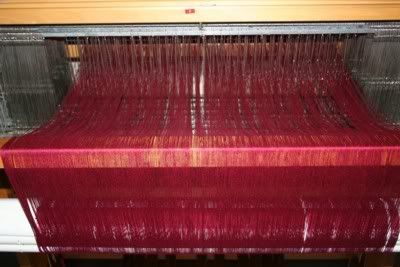 It took me all day. I don't know how
Kimberly
weaves so fast. She can warp her loom before her kids awaken and finish weaving several items in the same afternoon. One day perhaps I too will be able to weave so fast.
I found some sock yarn in my stash for the next pair of socks I plan to knit.
It is
Lisa Souza's
South Pacific sock yarn. I promised a pair of socks to someone after Christmas and I'm eager to start. Well, I actually started last night until a headache caused me to mess up so bad I pulled everything off the needles for a fresh start today. Lousy headaches. (Gabrielle has been suffering from migraines lately too and I feel so bad for her.)
With the new year about to start, we are planning our garden. We've been spreading leaves and compost over it to enrich the soil. We will till that into the ground and then I will mineralize. Hopefully we will have better soil and better results this year. I love all the possibility a new year possesses. And perhaps this is the year Jesus will return???