I have a head cold. A bad one. It is no fun. But I learned something the last few days.
I can actually knit much faster than I thought I could. I started this blue hat awhile ago and had just finished the ribbing before I got sick. I figured it would take about a week to get through the stranded portion. Then a head cold gave me focused knitting time. I finished the hat in a day.
I realized I normally behave like an ADHD child when knitting. I knit for a couple minutes then jump up to do something else. I tend to my preschooler's needs. I prepare meals. I do laundry. I clean up. I intervene in squabbles between kids. I assist with home school. I do a hundred different things while trying to work on the stitches of my knitted items. As I compare my speed to others, I always end up feeling slow.
This week, almost all of us are sick. No one is eating much. I made three or four days worth of muffins for breakfast and the kids help themselves if they want them. We've been sort of skipping over lunch. The kids grab an apple or baked potato if they get hungry. For dinner, we've been eating out of the pantry. I have jars and jars of homemade chicken soup. The freezer contains loaves of a variety of breads and vegetables. Preparation time is minimal. Most of our time is spent in front of the television or guarding our horded stashes of tissue. (Incidentally, we are going to have a tissue crises here if something doesn't give soon. The Kleenex is long gone and we have nearly decimated the toilet paper supply.)
The kids have little energy and I've allowed them unlimited afternoon television time. They've laid in bed, enthralled by their rarely watched video collection, for hours at a time. The boys sniffle and sneeze and periodically send Gabrielle, the only healthy one, to replenish the stash of videos. In the meantime I've been huddling on the couch, wrapped in my favorite shawl, listening to
The Little House on the Prairie
audio books and knitting. Yesterday, I started another hat.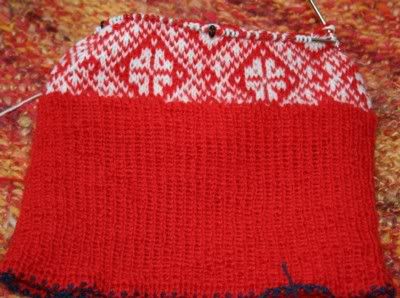 I finished all of this in a single day. Who'd have thought I could accomplish so much. Michael went absolutely nuts when he saw me pull out the red yarn. He loves the color red. He paws and clutches at my red knitting whenever he sees it. He wants it, oh how he wants it. Fortunately, I'm making the red hat for Michael for Christmas. And thanks to my cold, I may actually get it done.
Right before we all got sick, we built the Christmas tree and started the ceremony of decorating it.
I get a sense of awe every time we bring out the decorations. A few years ago, after Hurricane Ivan stole most of our possessions, my
Christian Artisans
sisters sent me Christmas tree decorations. Many of them were handmade. As I lovingly unwrap each precious ornament, I remember the love my sisters in Christ poured out during the difficult time following the hurricane. I am reminded how blessed I am. There is nothing so sweet as true fellowship among Christians. Christmas reminds me not only that "our Redeemer lives", but that we belong to a world wide family when we opt into salvation through Jesus Christ.
For at least a year, I have wrestled with the idea of stashing some
Socks that Rock
sock yarn in the "Lunasea" and "Jailhouse Rock" colorways.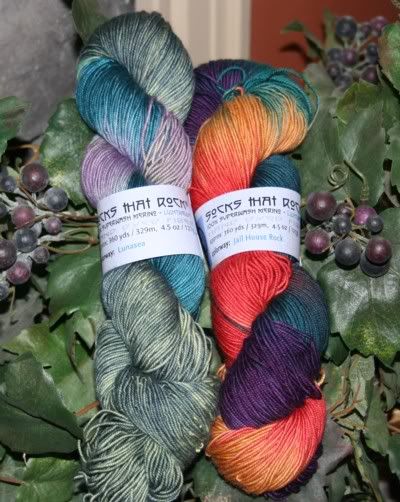 I finally gave into the temptation. These yarns are so pretty, so much prettier than I expected when I saw them online! I love the colors and can't wait until I am in a position to knit some socks for me again. I have a sock pattern called "Rivendale" that just begs to be knitted in the "Lunasea" yarn. Who knows, if my head cold lingers, I may actually get to it soon.