We got a call from friends at church yesterday asking if the kids wanted to come pick up pecans. The storm we had this week knocked most of the pecans from the trees.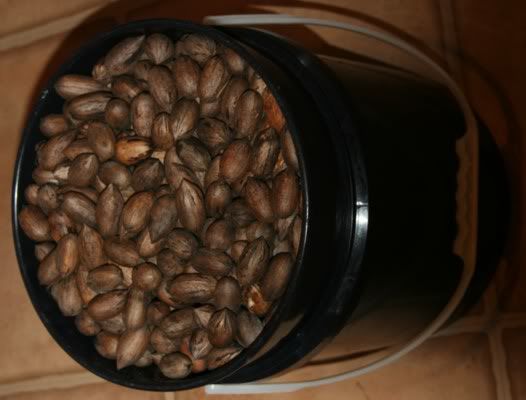 Within a half an hour, Gregory and Gabrielle picked up a full 5 gallon bucket of them!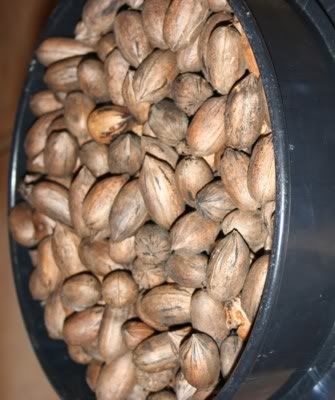 Now I have to get them all shelled. But I have a new strategy this year so we will see how it goes.
While I sat inside by the warm wood burning stove in Mabel's house (which I will admit to coveting), I shelled pecans and watched Michael. Miss Mabel let me bring the pecans we shelled together home with me.
That was a huge blessing. I stayed inside with Michael because he woke up with the start of the croup Gabrielle had a couple days ago.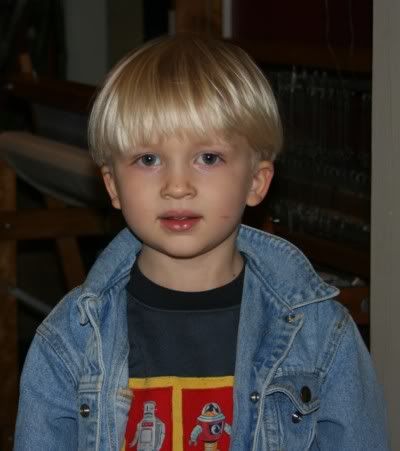 Gabrielle seemed to be miraculously healed overnight from her croup. She went from barely able to draw breath to completely fine. We had prayed for her to be healed, yet it is amazing how tough it can be to accept it when the healing takes place. How frail is my faith.
While not as sick as Gabrielle was, Michael feels pretty lousy. He had a temperature of 104º last night and ended up crawling in bed with me shortly after midnight. It is time to pray for him too I think.
Michael wanted me to take his picture yesterday. Here he is just getting sick. He has my eyes. They appear green when he is sick though they are normally a blue-green. Gregory has the same eyes too. Our eye color changes depending upon what we wear or how we feel. Weird.
Otherwise, I've been getting in some knitting here and there, but not much. Gregory has kept me busy with HIS latest weaving.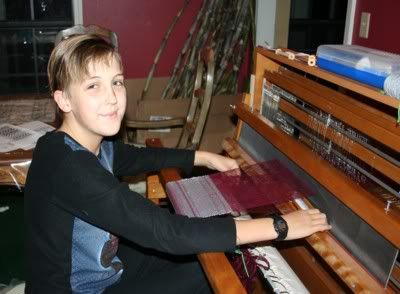 We finally got his floor loom set up and ready for weaving. (Gregory had been weaving exclusively on a rigid heddle loom before.) Gregory started with a sampler and fell in love with the floor loom. I know he wound a warp for a scarf yesterday. He is starting to make me look bad with his weaving accomplishments. I've been planning a scarf for awhile, but haven't managed to get to the warping board yet.